8 Healthier Alternatives To Potato Chips
8. Spiced Apple Chips
Crispy and sweet, with no added sugar and just a sprinkling of cinnamon and nutmeg, they make a perfect snack to satisfy midday (and late night) cravings. Simple and delicious, and who can resist that adorable little star?

Spiced Apple Chips
Ingredients:
Apples. Any number of any variety. (You can't really mess this part up.)
A dash of cinnamon
A pinch of nutmeg
Directions:
Preheat oven to 220F/ 105 Celsius, and line two large baking pans with parchment paper.
Using a knife or a mandolin, slice apples as thin as possible. Lay them side by side on a baking sheet, being careful not to overlap, lest you want conjoined chips.
Gently and carefully sprinkle a thin coating of cinnamon on the chips, and follow with a light dusting of nutmeg.
Bake for one hour, flip the slices, and bake for one hour more. Place on a wire cooling rack. Chips will crisp up as they cool.
7.  Crispy Mushroom Chips
Homemade crispy mushroom chips are a tasty and healthy alternative to potato chips! These oven-baked bursts of umami goodness are like potato chips on flavor steroids – and they're easy to make.
Crispy Mushroom Chips
Ingredients
about 300 grams oyster mushrooms
2 tablespoons avocado oil or melted ghee
Salt
Freshly ground pepper
Instructions
Preheat the oven to 275°F/ 135 Celsius and line some rimmed baking sheets with parchment paper. For this recipe, you'll either need to use multiple trays or bake in several batches.
Cut the mushrooms in half lengthwise, and then use a mandoline slicer to cut them into ⅛-inch slices.
Arrange the slices in a single layer on the parchment-lined baking sheets. Make sure the mushrooms are super-dry, and leave some space between the slices.
Brush avocado oil or melted ghee on both sides of the mushroom slices, and season with salt and pepper to taste.
Bake for 45 minutes to an hour, or until the chips are golden brown and crispy. These chips won't continue to crisp once they're out of the oven, so don't pull them out if they're still kind of soft.
6.  Oven Baked Zucchini Chips
These chips are incredibly simple to make, and the only time consuming portion is the amount they actually need in the oven. Aside from cooking time, they are quick and easy to whip up. They are low in calories (about 60 calories for 20 chips!), low in fat, and they totally satisfy a "bad chip" craving.
Oven Baked Zucchini Chips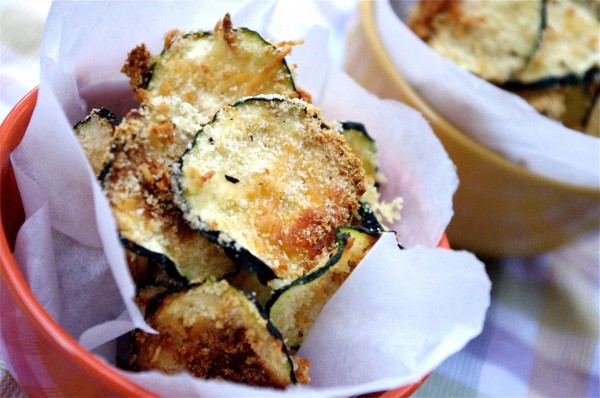 Ingredients
¼ cup dry whole wheat breadcrumbs.
¼ cup grated fresh Parmesan cheese
¼ teaspoon seasoned salt
¼ teaspoon garlic powder
⅛ teaspoon freshly ground black pepper
¼ cup skimmed milk
2½ cups (1/4-inch-thick) slices zucchini
Cooking spray
Instructions
Preheat oven to 425 degrees.
Combine first 5 ingredients in a medium bowl stirring with a whisk.
Place milk in a shallow bowl. Dip zucchini slices in milk and dredge in breadcrumb mixture.
Place coated slices on an oven proof wire rack coated with cooking spray; place rack on a baking sheet.
Bake for 30 minutes or until browned and crisped.
Enjoy!
5.  Slow-Roasted Pear Chips
Slow-roasted pear chips let you switch out the crackers on your cheese plate for something seasonal (and gluten-free). The slightly sweet crisps are the perfect crunchy partner for a round of gooey triple-cream cheese and some toasted pecans. Of course, the chips are also a satisfying — and wholesome — snack all by themselves.
Slow-Roasted Pear Chips
Ingredients:
Instructions
Very thinly slice pears lengthwise with a mandoline or chef's knife and place in a single layer on parchment-lined baking sheets.
Bake in a preheated 225 degrees oven 1 1/2 hours. Flip slices and continue baking until darkened slightly and edges have curled (they should still be pliable), 1 to 1 1/2 hours.
Transfer to a wire rack and let stand until cool and crisp. Store at room temperature in an airtight container up to 1 week.
4.  Baked Tofu Chips
What's a healthier alternative to potato chips? These baked tofu munchies! Tofu is a good source of protein, has zero cholesterol, and makes for one great snack. Preparation time: 10 mins, cooking time: 25 mins, Ready in 35 mins.
Baked Tofu Chips
INGREDIENTS
olive oil
2 blocks tofu (tokwa)
2 teaspoons salt
1/2 teaspoon spanish paprika (pimenton)
1 teaspoon onion powder
1/8 teaspoon black pepper
cayenne powder
Cooking Procedure
Set oven to very low heat, about 250ºF.
Line a cookie sheet with foil and lighty brush with oil for greasing
Slice tofu into very thin pieces, no more than 1/8-inch-thick.
Layer the tofu slices on the prepared sheet.
Lightly mist the slices using cooking spray. (Alternatively, you can fill a spray bottle with oil and adjust the nozzle to set on mist.)
Bake for about 25 minutes or until golden brown and crisp.
Make the seasoning: Mix together salt, Spanish paprika, onion powder, pepper, and cayenne powder  in a bowl. Sprinkle on tofu chips only as needed. (Watch the sodium! Season sparingly and taste as you go.)
Oven-dried banana chips to replace the store-bought banana chips that often have extra ingredients.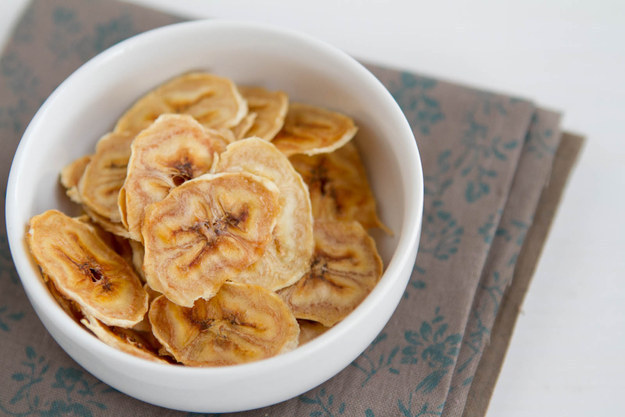 Baked Banana Chips
Ingredients
2 to 3 just-ripe bananas
Lemon Juice
Instructions
Preheat oven to 225˚ F/ 113 Celsius.
Slice bananas into 1/16 inch slices and lay in a single layer on a baking tray covered with parchment paper. The key is making sure they are all the same thickness. Brush with lemon juice.
Bake until bananas have dried out, 2-3 hours. Check bananas after about 90 minutes and peel up from the parchment paper to help air circulate a bit better (I used my fingers as the bananas are still a bit moist). Also, if you find the bananas are sticking and not able to easily flip, keep baking for another 20 to 30 minutes before flipping.
Chips are done when they have deepened in color (dark gold to brown), have no visible moisture, and begin to crisp up as they cool when they are lifted from the tray. Remove from oven and let cool to a crisp. Occasionally you may have to pull done ones from the tray while the remaining chips are still cooling. If you remove the banana chips too soon, they will not start to crisp after about 5 minutes of being out of the oven. If this is the case, return them to the oven for another 15 to 20 minutes.
2.  Pineapple Chips
A great way to snack, pineapple chips, and dip!
I have eaten a LOT of pineapple recently. I snack while I cut it because it's delicious juicy pineapple obviously. And I have cut up 5 in the last few days. I filled my dehydrator twice and managed to burn 2 batches in the oven. I made beautiful brown pineapple pucks, twice. The third time was a charm (Primal Desire).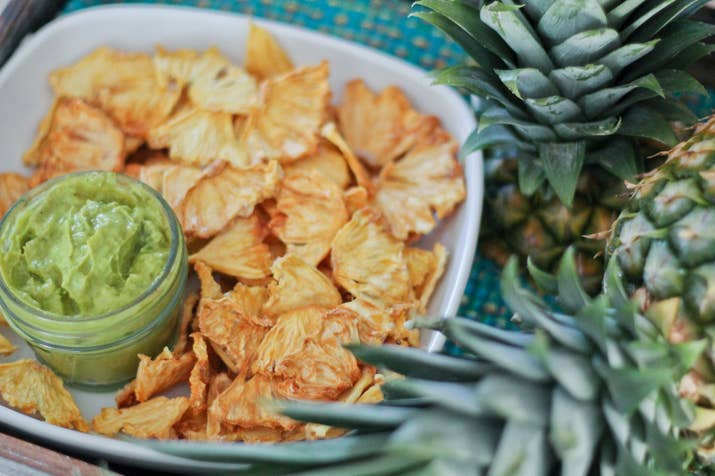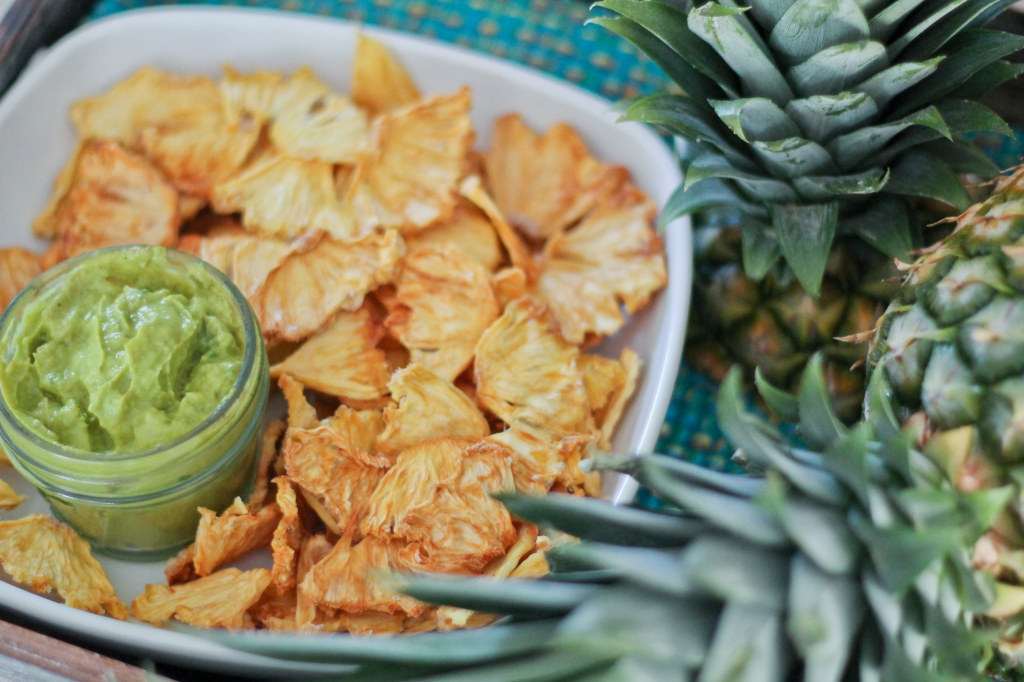 Pineapple Chips
Description
Savory guacamole pairs perfectly with sweet pineapple chips
Ingredients
1.5 avocados (pitted and skinned)
1/4 tsp turmeric
1/2 tsp ginger
1/2 tsp cumin
3 tbsp coconut milk
2 tbsp lime juice
1/4 cup diced onion
1/4 tsp salt
Instructions
Combine all ingredients and blend until smooth.
Ingredients
2 pineapples, peeled, cored and thinly sliced
1/8 cup lemon juice
sprinkle of salt
Instructions
Put sliced pineapple in a bowl, add lemon juice and toss until coated.
Lay out on a rack or dehydrator tray.
Sprinkle lightly with salt.
How long it takes to make the chips is dependent on how thick the fruit is sliced (and the outside humidity: rainy days take longer to dehydrate).
My dehydrator with no heat setting took 16 hours, the oven on low (not even to the numbers just until the light went on, likely around 110 F took 7 hours).
Bake until they are mostly crisp, once they cool they will crisp up a little more.
1.  Tomato Chips

If you've never had a tomato chip, but love the taste of tomatoes, you have yet to fully live your life! They are THAT GOOD! and YES, if you don't have a dehydrator, you really should buy one. I'm trying to encourage everyone to grow something, preserve something, and put back something when it comes to food sources this year. Dehydrating is one of the easiest ways to preserve food because it doesn't require the time commitment of canning or the freezer space of freezing. You just pop it in, dry it, and store.

Tomato Chips
Roma Tomatoes (Can use others)
Kosher or Sea Salt
Dried Basil
Cut tomatoes into ¼ inch slices. Arrange on dehydrator trays.
Sprinkle very lightly with salt and basil.
Dry on vegetable setting for 8-12 hours, or until crispy.